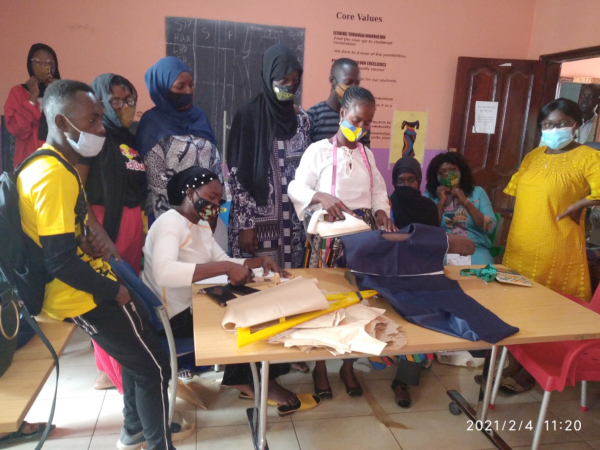 45 fashion designers are trained in technical creations
[ad_1]
The training, organized by SheTrades and Andandorr (YEP) under the tutelage of the Ministry of Trade, Industry, Regional Integration and Employment, is designed to connect these women entrepreneurs to international markets.
EIF, OPEC and the Government of The Gambia are funding the training which is part of a three-year project.
A Senegalese fashion expert, Mr. Momodou Diallo and three others from MoStyle were the resource persons during the intensive three-day fashion training.
The training exposed participants to technical drawing, pattern cutting, design and sizing, among others.
Speaking to this reporter at the end of the training, Momodou Diallo said that the training will build the capacity of the participants, as they have undergone an intensive 3-day training on technical cutting models, design, among others.
"We taught them how to take the appropriate measurements and what to do to make sure they know how many yards of fabric are enough for a person," he added.
The Senegalese fashion expert, however, called on the Gambian government to help young designers with the necessary materials, adding that such support would encourage the efficiency of fashion designers in the country.
Owner and Creative Director at Gamplus Clothing, Youma Wally Ndong, described the training as the biggest opportunity for her, adding that she has learned a lot that could energize her work as a designer.
"The technique that I learned from the hardest way to the shortcuts is really amazing. It broadened my knowledge in the production of clothing. I had no idea that some things, if not taken into account, could result in a really bad finish.
Ms. Ndong explained that with the knowledge she gained through the training, she would now be able to control and monitor the amount of products she wants to produce for her business.
Rebecca Oli Jallow, a participant in the She Trades Project, admitted that she learned a lot from the training, saying the knowledge gained was a challenge for her to do more.
Isatou Simaha, fashion designer and participant in the Andandorr project, described the training as a chance and an opportunity for them to network and associate with other designers.
[ad_2]
Source link